General description:
Professional LLC produces backhoe buckets for mining excavators.
Capacities range from 4,0 m3 for entry-level mining excavators (75-85 tons) up to 26...28m3 for excavators class PC5500, EX5500 (5600). Buckets are equipped with Ground Engaging Tools (GET) by ESCO, HENSLEY, MTG, COMBI, BYG and others at the customer's choice. For heavy and abrasive soils, additional protection of Chromium Carbide Plates is applied. Weld-on or detachable lip shroud is possible.
The production capacity and experience allow us to produce backhoe buckets for any mining machine.
Pattern. Hitachi EX-2600 "Backhoe" bucket design.
| | |
| --- | --- |
| Capacity | 15 m3 |
| Weight | 17800 kg |
| A | 3300 mm |
| B | 3100 mm |
| C | 3800 mm |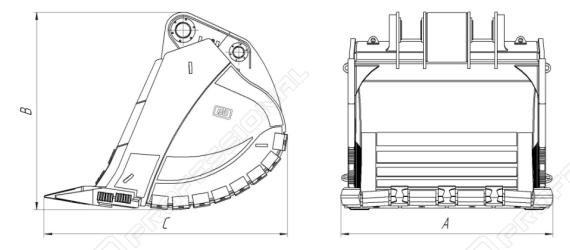 Applied materials and components
| | | |
| --- | --- | --- |
| 1. Blade | S690QL | 140 mm |
| 2. Wing | HТ-360 | 70 mm |
| 3. Side wall | HB-400 | 20 mm |
| 4. Bottom | S690QL | 20 mm |
| 5. Side reinforcing plate | HB-500 | 20 mm |
| 6. Overlay | HB-500 | 30 mm |
| 7. Beam | S690QL | 30 mm |
| 8. Eye (Lifting eye / Lifting lug) | S690QL | 50 mm |
| 9. Heel | F90HS | 14 mm |
| 10. Wear strip | HB-500 | 15 mm |
| 11. Tooth | 85SV2SD | 5 pcs. |
| Adapter corner | 6842L-85SV2 | 1 pcs. |
| | 6842R-85SV2 | 1 pcs. |
| Adapter central | 6806W-85SV2 | 3 pcs. |
| 12. Lip shroud | TBC140x420-2LA | 1 pcs. |
| | TBC140x420-2RA | 1 pcs. |
| | TBC140x420-1A | 1 pcs. |
| 13. Lining | HB-450 | 15 mm |
| 14. Overlay | HB-500 | 20 mm |
| 15. Wing shroud | HB-400 | 100 mm |
| 16. Wear plate | HB-500 | 15 mm |
| 17. Chocky bar | - | - |