General description:
Professional LLC produces wheel loader buckets, which are mainly employed for loading at quarries and open-pit mines.
The most common types of buckets for wheel loaders are:
Rock buckets, equipped with a system of teeth
Buckets or increased capacity for light soils
Buckets with detachable cutting edges
High-discharge buckets equipped with hydraulic cylinders
Buckets for quick coupling (Quick Couplers) with loader boom
Buckets are produced with different systems of Ground Engaging Tools (GET) at the the customer's choice by ESCO, HENSLEY, MTG, COMBI, BYG, VOLVO TOOTH SYSTEM (VTS), HYUNDAI, DOOSAN, NBLF and others. Bucket capacities range from 3,0 m3 for entry-level models of loaders to 20+ m3 for heavy loaders by Caterpillar, LeTurneau. For heavy and abrasive soils additional protection of Chromium Carbide Plates is applied. Weld-on or detachable lip shroud is possible.
Pattern. Komatsu WA-900 bucket for front loaders design.
| | |
| --- | --- |
| Capacity | 13,0 m3 |
| Width | 5210 mm |
| Height | 2420 mm |
| Length | 2690 mm |
| Weight | 12900 kg |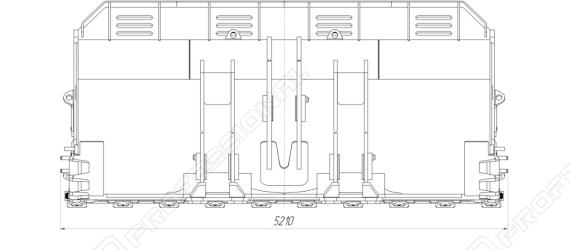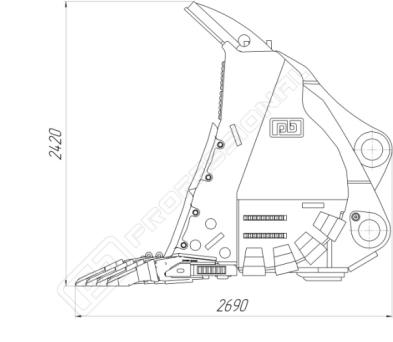 Applied materials and components
1. Bottom
S-690QL
25 mm
2. Blade
S-690QL
90 mm
3. Lower sidewall
HB-400
40 mm
3. Upper sidewall
HB-400
20 mm
5. Wing
HT-360
50 mm
6. Beam
S-690QL
20 mm
7. Lining
HB-400
20 mm
8. Lining
HB-400
40 mm
9. Lip
HB-400
25 mm
10. Middle Lifting Eye
S-690QL
50 mm
11. Side Lifting Eye
S-690QL
40 mm
12. Heel
HB-400
40 mm
13. Heel wear plate
HB-500
25 mm
14. Overlay
Overlay
10 mm
15. Tooth & adapter
1MA120WC90, MA120H1
10 pcs.
16. Lip shroud
4MX90L320-14A,
4MX90R320-14A,
4MX90C320-A
3+3+3 pcs.
17. Heel
HS230-190
8 mm
18. Wing shroud
I1U0740
4 mm
19. Liner
Chocky bar
32 mm
20. Liner
Плитка БХЧ
12 mm